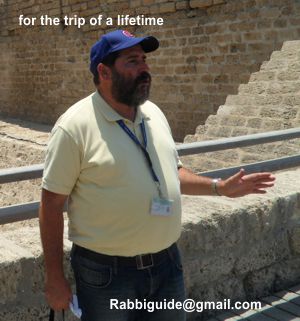 Send an e-mail to
rabbiguide@gmail.com
Rabbi Mordechai Weiss
Licensed Tour Guide
" Rabbi Weiss is a warm, engaging person, with an easy smile and a great sense of humor.
He is as knowledgeable and comfortable with secular matters of all types as he is with religious matters. There is always a light, pleasant feeling about him. He gets to know each person in the group and deals with them in a way they are comfortable with. Some people like to joke, others like to talk local politics or history or religious sites, others want to talk about restaurants and kids attractions or football, some like to be quiet.. In each case, he responded to each person in a natural comfortable way. When we travelled, he seemed to know just the right mix of talking about sites we were passing or historical tidbits and when to keep silent, either to let the landscape take hold or just to let people rest and doze."